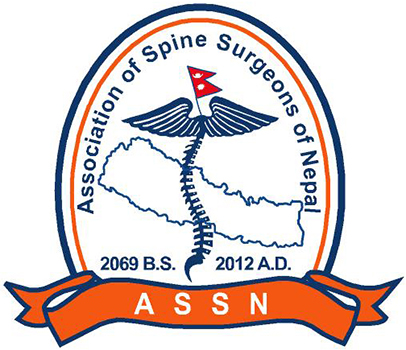 The need to bring all surgeons who are practicing spine surgery in Nepal to a common forum, led us to form the Association of Spine Surgeons of Nepal (ASSN). After much discussions and consultations with all flag bearers of Nepal Orthopaedic Association the official inauguration of ASSN was done on July 13, 2012.
Prof. Praveen Mishra, Health Secretary, Government of Nepal, was the chief guest for the occasion. All the dignitaries felt that the time has come for super specialty in all fields of orthpaedic surgery was the need of the hour and congratulated ASSN for being the first to head in this direction. Prof. LL Shah and Prof AR Bajracharya, our two national patrons shared their experiences and difficulties in starting spine surgery in Nepal and was a great inspiration for all our junior colleagues.
I come with a sense of excitement for our organization. In order to serve ASSN better and move it forward, the executive committee is undertaking an important change and is planning various events to promote spine care in the country.
Our vision is a future where we continue to grow and support important causes that are crucial to our community. As our county's first society dedicated to spinal care, ASSN will continue to reach all sections within our community. Thanks to all of the accomplishments and remarkable work done by our past presidents, Dr Rohit K Pokharel and Dr Ganesh Gurung, the executive members have continued a movement for transformative change in ASSN.
After establishing ASSN as founder general secretary, over 6 years ago, I have personally seen us grow from 9 members to over 40. Thank you for all your efforts and conviction as we strive to unify and make a difference to our community who suffer from spinal ailments and further improve their lives and wellbeing. I am indeed privileged to be able to serve and connect with our community as the President of The Association of Spine Surgeons of Nepal.
I appeal to all members to come forward and offer your service to the betterment of ASSN as the future is in your hands.